Drawn by our mutual affections for American history, politics, art, and the sweet bluegrass of
Act of Congress
, three friends and I trekked to the
Birmingham Museum of Art
's College Night last night. Catered, upscale McDonalds (I'm not kidding) was si
tuated around the terrace, but we wolfed down our food to be the nerds scholars we are and then trounced up the staircase. Destination? Saluting
the
Life, Liberty, and Pursuit of Happiness
exhibit.
It was as if my AP US History book had sprung to life an
d with revolutionary pride had plastered itself to the gallery walls. More than 230 early-American masterpieces are on loan currently from the
prestigious Yale University collection
. John Trumbull, Thomas Eakins, and some original silver from Tiffany & Co. defined the patriotism we've inherited. The furniture itself had me transported to 1770 Virginian parlors and swanky 1880's Fifth Avenue mansions.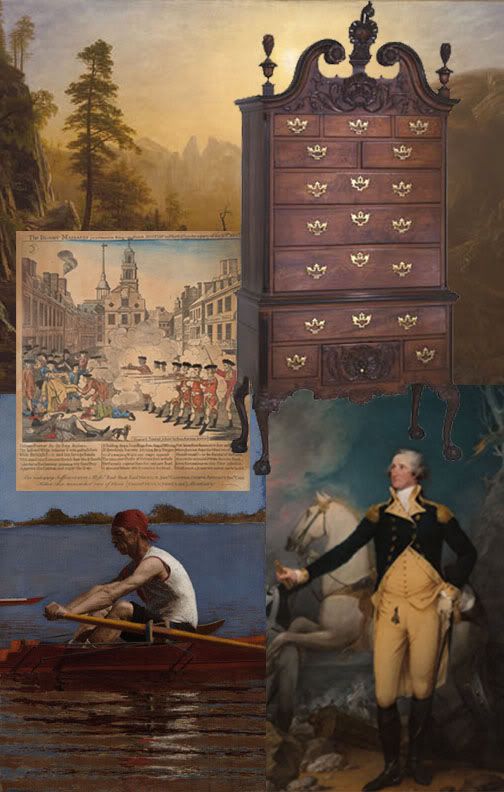 Some highlights from the exhibit
You know that good ole' "The Declaration of Independence, July 4, 1776" you've seen in textbooks since days as a pony-tailed third grader? Yes, it hangs in all its glory in the BMA until January 10. Political leaning, health care reform, and beltway opinions aside: If you've got even the slightest inkling of a rush when you consider the history, mystery, and fierce pride of our nation, these treasures will make your heart swell.
The Declaration of Independence, July 4, 1776 by John Trumbull. Courtesy of Yale University Art Gallery.
Like Petty and Mayer soulfully sing: "She's a good girl, loves her mama, loves Jesus, and America, too." And I gotta say, all four statues apply for this American girl.
(And we may or may not have found the dress-up box in the children's section...)